Name:
Photo:
Size:

Tape types:




8mm
8mm 112M
3.75"W x 2.4"H x 0.6"T

There are 3 types of 8mm media: Metal Particle (MP), Advanced Metal Evaporated (AME), and AME with a built-in cleaning strip (Exabyte calls this media "Smart Clean"). Each of these come in various lengths. All have the same physical dimensions.

There are six recording formats, loosely named after the Exabyte drive models: 8200, 8200C, 8500, 8500C, Mammoth, and Mammoth 2.

Exabyte made the following models: 8200, 8200SX, 8205, 8205XL, 8500, 8500C, 8505, 8505XL, Eliant 820, 8700, 8900, Mammoth LT, Mammoth, Mammoth 2. All 8mm drives are made by Exabyte, or under license from Exabyte.

Tape capacity ranges from 2.3 GB (8200 format, 112M tape) to 160 GB (Mammoth 2 format, 225 M tape, with compression).

Tape & drive combinations:
82xx & 85xx drives use 15, 54, or 112 M MP tapes
8205-XL, 8505-XL, 820 & 8700 drives use 15, 54, 112, or 160 M MP tapes
Mammoth LT drives use 22 or 125 M AME tapes
Mammoth 8900 drives use 22, 48, 125, or 170 M AME tapes (with firmware upgrade)
Mammoth 2 uses 75, 150, or 225 M AME with Smartclean



See also: Mammoth
See separate listings for AIT and VXA.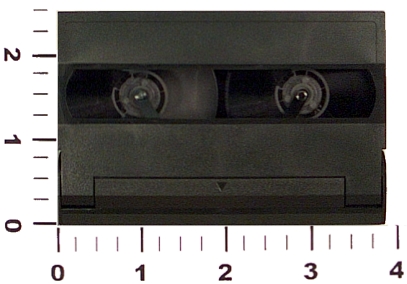 Need to convert this tape?
See our IBM Data Conversion Services